Up and Running with R: A
1.5 day workshop

conducted by Zev Ross to provide the skills needed to conduct data analysis and visualization with R statistical software
Goals
R has become the go-to programming language for statisticians and data analysts around the world but the language has a famously steep learning curve making it difficult to learn on your own. This workshop is designed to give beginners a solid foundation of experience and skills to conduct data analysis and visualization in R on their own.
"I loved the format. Everything was very clear and easy to follow, even for people like me that had no previous experience. You also made everyone feel involved and at the same level", (workshop participant, Cornell University, 2016, from anonymous feedback).
More feedback below.
Material Covered
R software and environment with an emphasis on RStudio
(An InfoWorld.com Technology of the Year, 2015)
Finding and installing packages
Grammar, objects, data types
Reading in, subsetting, sorting data and dealing with missing values
Manipulating tabular data with the R great new packages dplyr and magrittr
The basics of running statistical models
Data visualization using both base R and the powerful package ggplot2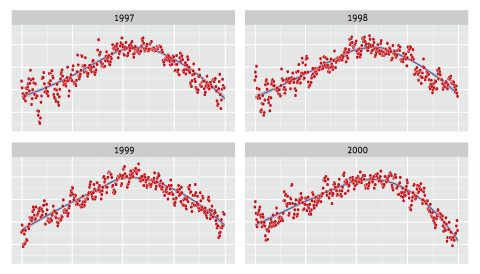 This plot is made with the R package ggplot2, a topic covered in the workshop. Example code can be found here.
Workshop Instructor
Zev Ross is president of ZevRoss Spatial Analysis, a company focused on data science, statistics and data visualization. He has used R on a daily basis for nearly 15 years conducting data analysis and statistics for a wide range of clients including some of the world's largest public health agencies and Fortune 500 companies. Zev has authored or co-authored 30 scientific research papers and maintains a popular data science blog where he regularly posts on R-related topics. He is also an Rstudio-recommended R programming consultant and trainer.
He has taught this workshop at major universities, at the American Cancer Society and in several different countries. Based on anonymous feedback (see below) participants come away from the workshop with the confidence to use R on their own.
Workshop Format
The workshop involves a mix of slides, collaborative hands-on material and exercises and can be held at your university or institution. Participants use their own laptops and will be provided with setup instructions. To fit with busy schedules the workshop can be held on weekdays or weekends. The workshop is designed for up to 15 participants (but let Zev know if you have a small or large group). For further details please don't hesitate to contact Zev directly.
Testimonials

"Based on a great experience I had with an introductory R course that Zev taught at a scientific conference a few years ago, I invited Zev to deliver the 1.5 day R workshop at Columbia University. The workshop was a perfect introduction for students and staff to this powerful, open source statistics and visualization software, and gave them the skills and confidence to get to work using R on their own data."
Patrick Kinney
Professor of Environmental Health Sciences and
Director, Columbia Climate and Health Program

"A student in my lab took the R course last week. He thought it was fantastic, and then used the knowledge to write a script to simplify and help in his analysis experiments he is doing for his project. He just told me that he used to be severely limited by the number of replicates he could analyze because of a problem handling the data – now that limitation is gone and he will be able to analyze much more data. Thank you for organizing the course."
Anonymous
Professor, Department of Molecular Biology and Genetics
Cornell University
(from a note sent to the organizer of an R workshop)
Anonymous Feedback from Workshop Participants
"Honestly, it was really great! A wealth of information… definitely useful and clear", April 2016 (New York City Department of Health; New York, NY)
"Super, super useful!", April 2016 (New York City Department of Health; New York, NY)
"Excellent class overall!", April 2016 (New York City Department of Health; New York, NY)
"The delivery rate was excellent. I enjoyed how clear and down to earth it all was", March 2016 (Agriculture Canada; Ottawa, ON)
"Very well presented and the exercises were very well structured. I liked that they forced you into common pitfalls so you can see errors", March 2016 (Agriculture Canada; Ottawa, ON)
"You were great! I loved the format (lectures by sections/topics and exercises right after). Everything was very clear and easy to follow, even for people like me that had no previous experience. You also made everyone feel involved and at the same level", January 2016 (Cornell University, Department of Molecular Biology and Genetics; Ithaca, NY)
"The delivery was great relative to other workshops I have attended. It was effective to have the brief lecture followed by exercise, it helped reinforce what we were learning.", January 2016 (Cornell University, Department of Molecular Biology and Genetics; Ithaca, NY)
"Thanks for a great workshop! I am usually very uncomfortable with coding but I truly learned a lot and was quite comfortable.", January 2016 (Cornell University, Department of Molecular Biology and Genetics; Ithaca, NY)
"I felt like I was learning much better and faster than the online course I took previously", October 2015 (American Cancer Society, Atlanta)
"You were also really helpful answering our questions, which we don't have once you leave.  While the internet and help function in R will definitely help as we do more coding, nothing replaces having an actual person to answer your questions", October 2015 (American Cancer Society, Atlanta)
"The speed and delivery was perfect", October 2015 (American Cancer Society, Atlanta)
"It is a really great workshop that accomplished the goal of helping someone get started with R", August 2014 (University of Washington, Seattle)
"Thanks again for such a useful workshop in R. I felt that R was too daunting to try on my own and now I feel like I can navigate it on my own. You really broke it into manageable pieces", October 2013 (Columbia University)
"Really fantastic workshop– thank you for the crash course!", November 2014 (UCLA)
"Thanks for the course! I did find it even more useful than I was expecting", August 2011 (Barcelona, Spain)
"This is a well constructed workshop and covers the basics of R, and it is a nice workshop for R beginners", August 2011 (Barcelona, Spain)